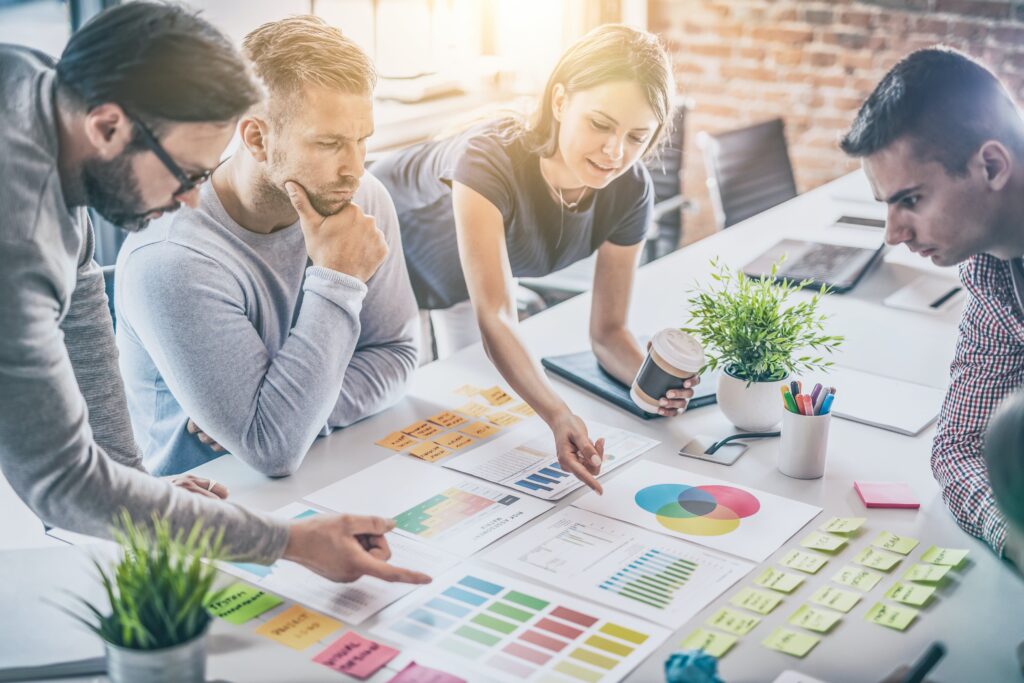 Strategic business planning  is a way to get everyone on the same page and working to achieve the same goal. Strategic planning is especially important for small businesses that have fewer resources than larger companies. Strategic business plans help you determine what your goals are, how you will achieve them, and how you'll measure the progress along the way. Strategic business planning isn't just for start-ups, though – all businesses can benefit from a good strategic plan! This blog will serve as your go-to guide to strategic business planning.
A Guide to Strategic Business Planning
Every company needs some sort of game plan in order to succeed. Not only does having this game plan keep everyone focused, but it also ensures that no one wastes time doing things that don't align with the company's goals. Strategic business planning does just that – it establishes a plan for success and provides a roadmap to achieve that success. Strategic plans don't have to be complex. Keep this guide in mind so you can get started on your own strategic business planning 
We will start off with a basic discussion of what strategic planning comprises.
1. What is Business Planning? Why Should You Do it?
Strategic business planning  is a way of establishing your long-term vision, how you'll achieve it, and what steps need to be taken to ensure progress along the way. Strategic plans are not only helpful for new businesses, but established companies can also benefit from reviewing their current strategy in order to make sure they're still on track towards their goals!
Strategic business planning is especially important for companies that don't have the resources larger companies usually have, because without a game plan they can easily end up wasting their time and money. Strategic business plans are flexible, so they can change as your company changes, but they also ensure that everyone in the company is working to achieve the same strategic goal.
Now that you have the basic concept clear in your mind, let's move onto what's included in a strategic plan
The Essential Components of a Successful Strategic Plan
1. Corporate Mission & Vision
Your company's mission statement should be at the core of your strategic business planning. This statement should define what your company is, what it does, and why it does that. This statement should be clear and concise, and it should be something that everyone in the company can agree on. It's important to remember that your mission statement can and should change as your company evolves – don't get too sentimental about something that might not be relevant anymore!
2. Strategic Goals and Objectives
After you have established your mission statement, you need to determine what your goals are. Your goals should stem from your mission statement, and they should be achievable within a reasonable amount of time.
Your goals need to be realistic, but they also have to have an element of pushing you in order to achieve them. Setting small achievable goals is the best way to stay on track to achieve your larger goals. Strategic business planning is flexible so that you can adjust your goals as necessary, but it's important that they reflect where you want the company to go.
3. The Strategic Planner
Now that you know what your mission statement and goals are, it's time to start planning how you will achieve them! The best way to do this is by creating a strategic planner. This document will help you track your progress and ensure that you stay on track to achieve your goals. The strategic planner should include the following:
– Your company's mission statement
– Your goals
– The steps necessary to achieve your goals
– A timeline for reaching your goals
– How you will measure your progress
4. Competitive Analysis
It's important to know who you're up against in order to be successful at strategic business planning. Not only do you need to know what your competition does, but you also need to understand their weaknesses and strengths. This information will help you create a plan that will give your company an important edge over competitors! You can gather this information through research, surveys, and interviews with clients.
In order to make money, you need to have a product or service that people want to buy. In order to figure out what people want, you need to identify your target market. This is the group of people you will be selling your products or services to. This group needs to have similar interests, so if you're selling dog treats, then it's not a good idea to target cat lovers.
5. The Strategies
Now that you know who your target market is and what your competition is doing, it's time to start developing strategies. This process will involve a lot of research, so make sure you have the resources necessary to do this properly. You need to figure out what makes your company unique, and then you need to find a way to communicate that to your target market. Additionally, you need to develop strategies for reaching your target market and persuading them to buy from you. There are a lot of different ways to do this, so you need to find the approach that will work best for your company.
6. Milestones and Progress-Measuring Tools
Once you have your strategies in place, it's important to set up milestones and measuring tools. This will help you track your progress and make sure you're on track. Milestones are specific goals that need to be met in order for you to continue moving forward with your plan. Measuring tools can be anything from customer surveys to financial reports. Use whatever information you have available to you in order to make sure you're making the most of your strategic business planning.!
Now that the strategic planning components are clear to you, we will move onto a discussion of the common mistakes people make through their strategic business planning journey.
Common Strategic Planning Mistakes
1. Letting Politics Rule the Strategic Plan
One of the most common strategic business planning. mistakes is letting politics rule the plan. This can happen when different departments or employees have different goals and agendas. When this happens, the strategic business planning becomes bogged down in bureaucracy, and it becomes difficult to achieve anything. To avoid this, it's important to have a clear and concise plan that everyone can agree on. If there are disagreements, the final decision should always come from a team leader or a professional strategic consultant.
2. Listing Too Many Goals But Not Enough Strategies to Achieve Them
Another strategic business planning mistake is having too many goals and not enough strategies to achieve them. In order for a strategic plan to be effective, it needs to be clear and specific. Some strategic consultants try to list every goal they can, but this makes it difficult for a team or company to complete its tasks in a timely manner! Instead, work with your consultant and leadership to identify the most important goals that need to be achieved, then develop strategies to meet those goals.
3. Not Having a Mentor/Advisor Involved in the Strategic Business Plan
Yet another common strategic business planning mistake is not having a mentor or advisor involved in the strategic business plan. This person should be someone who has had success in your industry and can provide you with guidance and advice in terms of successful strategic business planning It's important to get another perspective on your strategic plan, and having a mentor will help you do this.
4. Not Measuring Progress and Results
Strategic business planning mistakes can also happen when strategic consultants fail to measure progress and results. In order for a strategic plan to be effective, you need to have milestones and measuring tools in place. If you do not, it will be very difficult to track your progress and determine if your plan is working or not! By setting up milestones and measuring tools, strategic consultants can properly monitor their company's performance and help it make the necessary changes it needs so the firm stays on track!
5. Identifying the Wrong Target Market
Another strategic business planning mistake is identifying the wrong target market. When strategic consultants develop a plan, they need to make sure that their marketing and advertising efforts are focused on those who will benefit from it the most. For example, if you offer a product or service targeting teenagers but your strategic plan was developed with adults in mind, you might not be getting as much traction as you would expect! To avoid this strategic business planning failure, work closely with your strategic consultant so they can create plans and strategies that will be effective for your specific target market.
Tips to Help You Stay Focused
Here are a few tips to help you stay focused when developing your Strategic Business Plan:
Strategic Business Planning Example: Strategic Goals and Themes
While tactics, strategies, and objectives make up the key components of any strategic business planning example, they are not the only items. Several plans include more levels in the hierarchy, being more robust in nature. Typically referred to as strategic goals and themes, these goals take precedence over corporate objectives. A fully developed strategic business plan appears like the strategic business planning example below:
1. Set Realistic Deadlines and Make Sure Everyone on Your Team is Aware of Them: It's important to set realistic deadlines and make sure that everyone on your team is aware of them. Strategic consultants who fail to do this often rush through the strategic plan development process, which can cause issues down the road. A strategic plan should be taken seriously, so it needs to have a clear deadline. Remember, strategic business planning is meant to be helpful for many years, so rushing through yours will only cause problems over the long term!
2. Break Down Your Goals into Smaller, More Manageable Tasks: The strategic business planning process can be overwhelming, so strategic consultants need to break down their strategic plans into smaller, more manageable tasks. Strategic consultants who fail to do this often get overwhelmed during the strategic plan development process and continue to procrastinate instead of acting. For example, if your strategic plan includes marketing your product line on Instagram, you might have two goals: "increase brand awareness" and "increase follower growth." Strategic consultants should not tackle these goals at once! Instead, they should break them down into smaller tasks that will lead them towards achieving their larger goals. Once these smaller pieces are in place, the business will be able to work towards the bigger picture.
3. Stay Organized and Keep Track of Your Progress: Staying organized and keeping track of the strategic plan progress is essential for strategic consultants to do well. Strategic leaders who fail to stay organized often lose important strategic plan documents, forget deadlines, and don't meet their goals. Strategic consultants should always keep corporate strategic information in one place so they can refer back to it as and when necessary. It's also helpful to keep the strategic plan progress documented so strategic businesses will be able to see how far they've come!
4. Make Sure You Have a Clear Vision of What You Want to Achieve: Before strategic consultants start making a strategic business plan, they should be sure that they have a clear vision for the end goals. Strategic consultants who don't do this often lose focus during the strategic business planning process and don't know which steps to take next. Strategic consultants need to make sure their strategic plan is achievable, so they need to know what the end goal looks like. It's also helpful if strategic consultants can measure their progress as time goes on, so they'll be able to stay on track towards achieving those goals!
ZL Consultancy Provides the Most Reliable Strategic Planning
We help startup businesses to start small-scale strategic business planning A startup needs a worthwhile business idea, talented team members, and a plan to make it all happen. They need to partner with a trustworthy consultancy firm in order to grow successfully. That's exactly what ZL Consulting helps them with. We offer effective startup solutions to them.