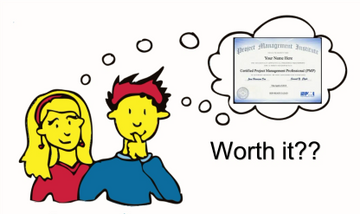 PMP Certification- Is it worth it? Is it right for you?
There are a lot of Hypes about the PMP certification in the project management community. It is seems to be the golden stamp on most senior project managers' profile. Do you really need it in order to be a successful project manager? The exam and the preparation course is a time commitment and a financial investment. Is it really worth it? Or if it is right for you?
I am a PMP certified project manager for over a decade. I have successfully executed many multi-million dollars, high complexity, high risk global engineering projects with high executed profits. But that doesn't mean I recommend you to go ahead and get a PMP certification right away. Based on where you are in your career path I would give you different recommendations.
If you are fresh out of college and just jumping into your first job as a project management professional; I would suggest you to hold off a while before considering the certification. Right now your focus is to take the trainings that are offered in the company and are available around you to give you the essential skills for being a project manager. You need the trainings to jump start your career onto the project management path. In addition to that, most PMP certification has prerequisites. No matters for associate level or professional level, they require 2-3 years experience. The PMP certification requires three years of practice in an organization. With that said, give it three to five years before considering the certification. Practice will help you learn and get better at it. Secondly there is a preparation course fee and exam fee which adds up to be around $3000. It is a high price tag if you're just starting your first job.
After you have practiced project management for three to five years and ready to jump to the next job and advance your career, go ahead and get that certification right away!! PMP certification is a strong stamp on the resume. It validates your experience, certifies your capability, and speaks to the recruiters. A lot of the job posting requires a PMP certification for senior level positions. Having the PMP next to your name, quite often it increases your chances to pass the first round of screening and give you a chance for the interview. So if you are in this position, don't hesitate, go ahead and prepare for the exam now. It is an investment that will pay back within the first few months of your next job.
There is an exception to what is stated above; many of the larger, global organizations offer development or "fast track" programs for their employees. They often recruit students right after college and put them into those development programs. In those programs,you get experience different departments and take lots of different training courses to prepare you for a career path within the company. Quite often those companies have customized their own product lifecycle development process and tools used in their project management department. You can get trainings within the companies to learn about them. In case your desire is to advance within the company heading up the chain of a project manager position, you do not necessarily need a PMP certification. It is a nice additional piece to your resume but it's not mandatory for growth. Because in those type of company ecosystem you can access the training and the tools you need within the company and the PMP certification is just a nice add-on. However if your company sponsors those certifications why not get it whenever you have the time and energy!
Here you have it. Those are my honest recommendations for you based on where you are what situation you're in and what career path you are on for a project manager.
The key take away is: A certification will not help you execute your projects. A certification doesn't teach you how to get a delayed project on track. It certainly doesn't help when you are negotiating with your customer regarding scope creep. It is simply a record of your capabilities and experiences and helps to build credibility. But your skill sets are the asset that you need to focus on which go a long way towards success.