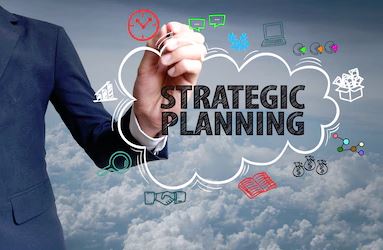 Strategic Planning for Small Business
Strategic business planning is essential to all small businesses. When you want to define how you want your business to move from where it stands today (Point A) to where you want it to stand in the future (Point B), you need proper strategic business planning. A well-defined strategy includes tactics that work wonders for your business. It helps you set your priorities, reach a consensus, make sound choices, and measure your progress in achieving your strategic objectives.

The conventional approach to strategic planning doesn't suit small businesses. It is more suited to large companies, instead. A small business needs a different plan than a large organization does. When companies grow and go global, they start producing different strategic plans for different units, which is not the stage a small business is at, in terms of both size and position. A small business has one plan, and it needs to be executed correctly. The wrong execution will result in a waste of everything – be it time, effort, or even resources. And a small business just cannot afford that.

Naturally, small business owners have a lot of questions when it comes to strategic business planning, which typically are
● How much planning do I need to do?
● What should be my main focus?
● Who should be my stakeholders?
● What should the final strategic plan look like?
Mistakes in a strategic plan cause confusion, poor decision-making, and missed opportunities. This post is specifically for strategic planning for small business owners. We will cover what makes planning successful and the common mistakes small businesses tend to make when it comes to strategic business planning.
What is Strategic Planning for Small Businesses?
If you want your small business to have a proper direction to follow, you need to do proper strategic business planning. A strategic plan helps you assess your current market position, as well as your potential to reach your goals. It serves a good purpose: a strategic business plan helps you record your corporate mission, vision, values, long-term goals, and the action plan you have to achieve them.

A well-thought-out strategic plan plays a crucial role in the successful growth of your small business. It guides your employees on how to respond to external market challenges and opportunities. Many small business owners have now started focusing on proper strategic business planning.

It is never too late to start the strategic business planning for small businesses. Even very small business owners are today focusing on proper long-term planning, as they understand their future success depends on it. This leads to meaningful discussions, which bring about helpful changes in the course of your business. The purpose of strategic planning is to set realistic goals and objectives for your business. This, in turn, helps you make a formal strategic plan that outlines your corporate goals.
The Key to Successful Strategic Business Planning
Successful strategic planning for small businesses can be ensured only through a team effort. This needs to have a contribution from your employees as well in order to bear an effective outcome.

Strategic business planning also needs to be adjustable. Outlining corporate goals and objectives is essential, but so is the option to be able to change them as and when needed. For example, around 44% of small businesses that were operating without having any website decided to make one in 2021 to cater to the online market, specifically after Covid-19-related worldwide lockdowns.outcome.

A sign of successful strategic planning for small businesses is that all your stakeholders, including employees, business owners, investors, and corporate executives, are on the same page regarding the corporate goals and preceding direction. They all understand what drives strength to their business and the areas they need to work harder on. This motivates them to want to contribute to the success and growth of the business.
Common Strategic Planning Mistakes Small Businesses Make
Strategic planning for small businesses is not an easy thing to do. Many small business owners neglect strategic business planning at all. Others that don't are prone to overdoing it as they follow a textbook approach designed for larger companies. Overplanning reflects in a number of interrelated and identifiable ways:
Strategic Business Planning Example: Strategic Goals and Themes
While tactics, strategies, and objectives make up the key components of any strategic business planning example, they are not the only items. Several plans include more levels in the hierarchy, being more robust in nature. Typically referred to as strategic goals and themes, these goals take precedence over corporate objectives. A fully developed strategic business plan appears like the strategic business planning example below:
1. Trying to Perfect Everything:
In a bid to get everything right, you spend a lot of time trying to get the perfect strategic plan. However, there is no such thing as the perfect plan. A large company can hire experts to write a strategic plan for them, but small businesses don't generally do that. Instead of trying to perfect everything, you should focus on getting it done right.
2. Making a Document to Market:
A strategic plan for a small business needs substance in it. Using technical jargon or fancy language won't help if the substance doesn't exist. While your plan will go to shareholders, that doesn't mean it's an attempt to impress them.
3. Doing Long Term Strategic Business Planning:
would match that timeline. However, for a small business, that big a timeline becomes impractical. They don't have the information they need, for starters, to look that far ahead. Frequent adjustments will have to be made by small business owners when things need to be changed. So, a small business owner would be better off making a strategic business plan for a 6-month period. That would make it more manageable and realistic.

To sum it up, you can do everything you can to get the strategic business planning process right as a small business owner. There are still some common mistakes, such as following a process meant for a large company or avoiding the planning altogether.

It isn't sufficient to just make the plan without knowing its purpose. When you ask yourself, "Why am I doing this?", the answer will give you a direction to follow. Once you know where to go, you need to figure out how to get there. Then there is a crucial role that people in your company play in the strategic business planning process.